A second Influence Wargaming Conference recently took place to further the thinking on wargaming and influence effects.
The conference at the Royal Military Academy Sandhurst (RMAS) provided an opportunity to further the thinking on how wargaming can be used to better represent and explore influence effects to support more informed decision-making.
Hosted by the Defence Science and Technology Laboratory (Dstl), the Development, Concepts and Doctrine Centre (DCDC) and the Joint Information Activities Group (JIAG), the conference was attended by more than 150 military and civilian defence officials, as well as representatives from other government bodies.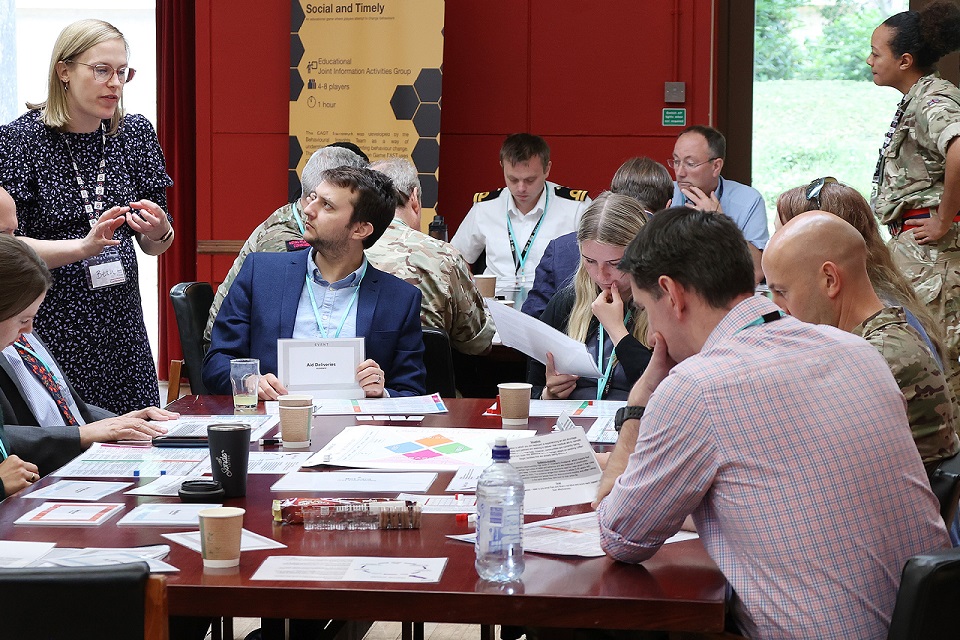 Human behaviour is a central concern of much defence and security activity, and operational success frequently depends upon influencing the attitudes, perceptions and behaviours of different audiences. Wargaming influence is a new innovation that is attempting to account for the different factors that can alter the behaviour of audiences to achieve successful outcomes.
Conference participants played wargames that explored influence effects across a range of areas, including:
policy and strategy
force development
experimentation
support to operations
education and training
The delegates also got to take home a card-driven game, Powers of Persuasion (PoP!), which they can use to create influence effects to achieve a given goal.
Rt Hon. Ben Wallace MP, Secretary of State for defence, was presented with the Influence Wargaming Handbook, which was developed by a team led by Dstl's Colin Marston. The Secretary of State said:
"Challenging traditional thinking through wargaming is critical to the reform of our services. I expect those commissioning wargames to play an active role in those games so that reform and challenge are seen to be part of everyday thinking rather than occurring in academic or scientific backrooms. Wargame outputs have been central to our decision-making under my leadership and everyone has a role to play in this cultural shift."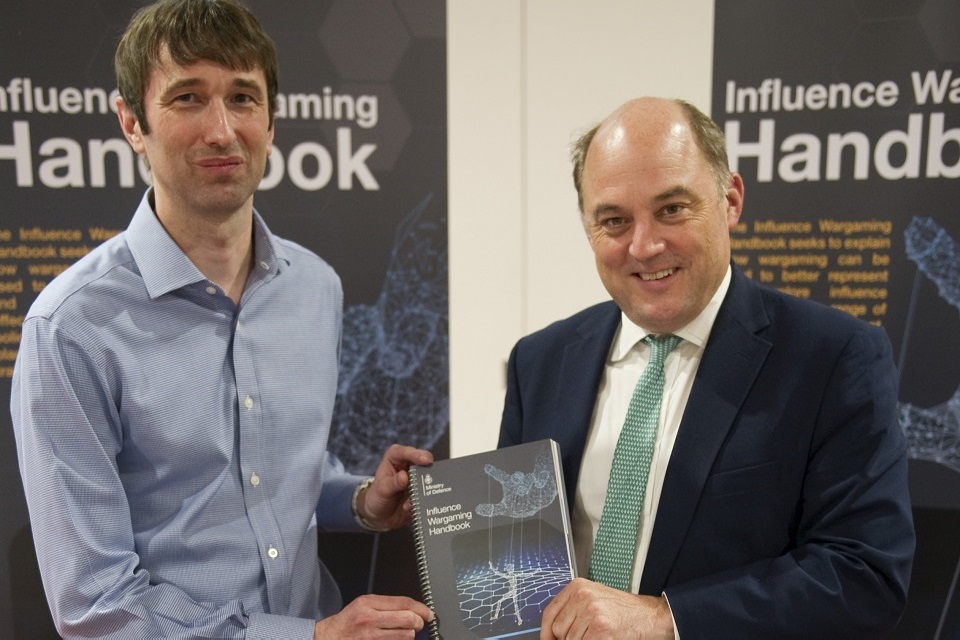 Dr Nick Joad, Director, Defence Science and Technology, said:
"Achieving advantage in a rapidly evolving and increasing complex and contested information environment is critical to the UK's success to conduct military operations now and in future. The Influence Wargaming Handbook marks the culmination of two years of MOD S&T research, delivered through the Influence and Command S&T Programme. It will, for the first time, give practitioners a step-by-step guide to represent and explore influence effects across a range of policy, force development, planning, education and training problems, and has the potential to change the way influence effects are considered as part of a combined approach at all levels of defence operations."
Brigadier Peter Rowell, Head Concepts DCDC, said:
"Influencing audiences is key to delivering integrated action. But influencing audiences is difficult and we have not had a way to train or track influence – until now. The Influence Wargaming Handbook is a breakthrough. This is ground-breaking research, undertaken in partnership between Dstl, DCDC, JIAG, and contributions from UK and international experts, combining influence with wargaming.
"The handbook is complementary to the MOD Wargaming Handbook and supports several defence doctrine publications such as AJP-10, Allied Joint Doctrine for Strategic Communications and AJP-10.1, Allied Joint Doctrine for Information Operations. It is valuable guidance and is a powerful tool for defence and partners across government – especially the owners of influence-related problems and practitioners who design and deliver wargames. This important work will also help grow expertise, develop the force and explore the effects of influence. I am very grateful for all the efforts so many have made to bring this important work to fruition."
JIAG Commanding Officer Lt Col Pat Owen said:
"At JIAG, we're committed to providing engaging training for all our students, whether in the UK or overseas. By working with Dstl we've been able to develop several cutting edge games to deliver training in fresh and immersive ways which have been praised by students and staff alike. The Influence Wargaming Handbook will also allow us to consider how best to represent influence in useful, relevant ways. We look forward to maintaining this valuable relationship in the future."