29 November 2022. Stephen Lillie, Director, Defence and International Security, has given a speech at the Ninth Review Conference of the Biological and Toxin Weapons Convention.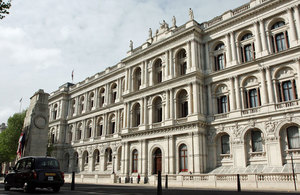 Mr President,
Let me begin by congratulating you on your election as President of this Review Conference. You have the UK's full support.
We deeply appreciate your efforts to bring States Parties closer to consensus and, we hope, a substantive outcome. We acknowledge the challenging backdrop, and the delay to this Revcon, in part due to the Covid-19 pandemic.
We are extremely grateful to the Implementation Support Unit for its tireless efforts throughout this inter-sessional and preparatory process.
The ISU continues to demonstrate its importance to the successful implementation of this Convention and our shared international efforts to maintain the prohibition against biological weapons.
Mr President,
Since the last Review Conference, two major events have shaped the backdrop for this Conference: the Covid-19 pandemic and Russia's horrific invasion of Ukraine.
The Covid-19 pandemic showed us the devastating impacts that an infectious disease outbreak can have on our societies and our economies, and revealed significant gaps in global preparedness and response.
Russia's unprovoked and illegal invasion of Ukraine has been devastating for the people of Ukraine and the wider world.
This Convention's work has been plagued by disinformation associated with both.
Russia persists with its attempts to advance their baseless allegations against the US and Ukraine. Its invocation of Article 5 and Article 6 of the Convention were an abuse of those provisions.
Participants in this Review Conference should be in no doubt about that.
This Review Conference must express clear support for international cooperation for peaceful applications of biosciences across human, animal and plant health, as provided for under Article 10, is a vital aspect of this Convention. We must defend Article 10 against malicious disinformation.
Mr President,
Since the last Review Conference, the threats posed by biological weapons have evolved and diversified.
Rapid advances in science and technology offer great benefits in terms of peaceful research, but may also increase the threats posed by those intending to misuse biotechnology.
The UK strongly believes that we must respond to these challenges with renewed collective efforts to strengthen this Convention, as our upcoming refreshed national Biological Security Strategy will reaffirm.
Thanks to the hard work of States Parties during this inter-sessional process the path ahead is clear.
We must properly equip and resource the Implementation Support Unit so that it can fulfil its increasing responsibilities.
We must strengthen international cooperation on peaceful uses of biology under Article 10.
We must agree a systematic and structured science and technology review process to enable the Convention to respond flexibly to current and future biological threats.
We must operationalise Article 6I and strengthen global preparedness and response to infectious disease outbreaks, be they natural, accidental or deliberate in origin.
We must agree to devolve specific decision-making authorities to other meetings throughout the intersessional period, in order to enable more effective and agile responses under the BTWC.
And above all we must grab the main offer on the table. The UK welcomes and supports the proposal by Canada and the Netherlands to establish a temporary Experts Working Group to find ways of strengthening implementation of the Convention.
We welcome that these ways could include possible legal, verification or other assurance measures.
In the history of this Convention these sorts of chances do not come around often – we should grasp them together.
For too long, our Convention has been the prisoner of its history; this is our chance to reshape it for the future.
Mr President,
As one of three Depositary Governments to this Convention the UK remains steadfast in its commitment to strengthening the BTWC and safeguarding the Convention. We are equally steadfast in resisting attempts to undermine it.
We cannot stand by and allow the protection afforded by the Convention to be undermined by collective failure to adapt and reform it.
We call on all States Parties to seize the opportunities presented at this Review Conference, to engage in the spirit of compromise, and with the shared goal of strengthening our Convention.
Thank you, Mr President.