H.E. Ms. KAMIKAWA Yoko, Minister for Foreign Affairs and H.E. Mr. KIHARA Minoru, Minister of Defence of Japan, the Rt Hon James Cleverly, Secretary of State for Foreign, Commonwealth and Development Affairs and the Rt Hon Grant Shapps, Secretary of State for Defence of the UK held the fifth Japan-UK Foreign and Defence Ministerial Meeting on 7 November 2023 in Tokyo.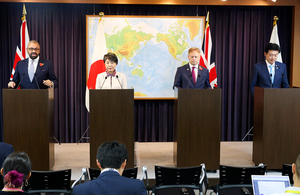 Ministers  reaffirmed the UK and Japan's Global Strategic Partnership, as set out in the Hiroshima Accord. We are connected by our shared values and principles of freedom, democracy, rule of law, fundamental human rights, and open and fair trade. We commit to stand shoulder to shoulder to tackle the unprecedented global challenges we face through increasing global competition, climate change and rapid technological developments. Acknowledging that the security and prosperity of the Euro-Atlantic and Indo-Pacific are inseparable, we commit to further strengthen our security capabilities to help safeguard global peace and stability. We are each other's closest security partners in Europe and Asia.
Ministers affirmed our commitment to maintain and strengthen the international order based on the rule of law and to uphold the principles of the UN Charter. This includes our commitment to the vision of a free and open Indo-Pacific; our call for China to act as a responsible member of the international community; condemnation of North Korea nuclear and ballistic missile programmes; Iran's proliferative and destabilising behaviour; condemnation of Hamas' terrorist attack and of support for Israel's right to self-defence in line with international law; and our determination to support Ukraine for as long as it takes in the face of Russian aggression.
Ministers noted substantive progress in the UK-Japan partnership since the agreement of the Hiroshima Accord and reaffirmed their commitment to deliver all aspects of the Accord. This progress includes:
The UK's accession to the Comprehensive and Progressive Agreement for Trans-Pacific Partnership (CPTPP);
The ratification of the Reciprocal Access Agreement (RAA) and our ever-deeper security and defence relationship, including the flagship Global Combat Air Programme;
The first UK-Japan Strategic Economic Policy and Trade Dialogue;
The signing of a Memorandum of Cooperation on Critical Minerals;
And just today, we launched a new People-to-People Initiative to bring our citizens closer together.
In particular, the Ministers discussed the ever-deepening defence and security relationship between Japan and the UK and:
Committed to utilise the RAA to facilitate greater interoperable, resilient and cross-domain defence and security cooperation, including positive progress on the application of Asset Protection Measures;
Endorsed the progress made under GCAP to develop a next-generation fighter by 2035 and to identify further potential areas of joint development and cooperation;
Committed to the deployment of the UK's Carrier Strike Group to the Indo-Pacific in 2025;
acknowledged the importance of the activities of the UK's two offshore patrol vessels being deployed to the Indo-Pacific on a permanent basis as a contribution to a rules-based maritime order;
Recognised steady progress in cyber cooperation following the establishment of the Japan-UK Cyber Partnership, committed to work together on outer space, and to strengthen cooperation in strategic communication in response to disinformation;
Committed to coordinate closely in contingency planning for potential evacuations;
Concurred to collaborate closely on Economic Security issues, including through the Economic Security Dialogue to enhance supply chain resilience, international standards, coerced technology transfers and intellectual property theft, and export controls.
Affirmed the  commitment to consult each other on important regional and global security issues
We finish today united in our shared belief in the importance of our Global Strategic Partnership to create a more peaceful and secure world. As the security and prosperity of the Euro-Atlantic and Indo-Pacific  are inseparable, the goals of our strategic partnership are shared. We resolve to deepen and strengthen our partnership to face today and tomorrow's challenges.
The full Joint statement of the 2+2 can be accessed:  https://www.gov.uk/government/publications/japan-uk-foreign-and-defence-ministerial-meeting-2023-joint-statement
(Source: https://www.gov.uk/)