The UK, Japan and Italy joined forces at DSEI Japan to showcase the new Global Combat Air Programme (GCAP).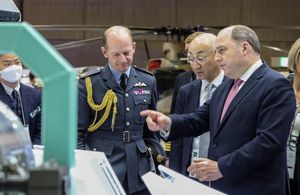 The UK, Japan and Italy joined forces at DSEI Japan to showcase the new Global Combat Air Programme (GCAP) publicly for the first time since it was announced late last year.
Defence Secretary, Ben Wallace, has been in Tokyo to view some of the ground-breaking technology that is driving this unique programme and meeting with his Italian and Japanese counterparts.
On display at DSEI Japan was the high-tech GCAP stand, staffed by personnel from the three partnering countries. Attendees were able to see a new 3-metre model of the latest aircraft design and industry partners brought GCAP to life with a cockpit demonstrator and immersive simulators.
Following a joint announcement made by the Prime Ministers of the UK, Italy and Japan in December 2022, GCAP is aiming to deliver a next-generation combat aircraft by 2035. By combining forces the UK and our partners will deliver the military capability we need to overcome fast evolving threats, share costs and ensure the RAF remains interoperable with some of our closest partners.
The project is also expected to drive economic growth and create high-skill jobs. Last year, a report by PWC suggested the UK taking a core role in a combat air system could support an average of 21,000 jobs a year and contribute an estimated £26.2bn to the economy by 2050.
Defence Secretary, Ben Wallace, said:
The Global Combat Air Programme is an enduring, strategic, partnership that will see the creation of a sixth generation fighter, to protect our skies for decades to come and bring together an alliance of nations, bridging Europe and the Pacific.

It's exciting to be working alongside Japan and Italy and see this project fuse the best of all our technologies, locking in a partnership of liberal and open democracies who believe in the rule of law.
During the conference, industry partners made several collaboration agreements furthering the work of the Global Combat Air programme. They include:
BAE Systems, MHI and Leonardo continue to work closely together on the next steps in the Global Combat Air Programme with a shared ambition for a joint industrial arrangement.
Rolls-Royce, IHI and Avio Aero setting out the terms under which they will pool their expertise to design, manufacture and test a full-scale future combat engine demonstrator.
Mitsubishi Electric (Japan) & Leonardo UK; & Leonardo and Elettronica (Italy) agreeing to form a special domain to develop advanced on-board electronics which will provide aircrew with information advantage and advanced self-protection capabilities.
A new visual identity and logo has also been revealed for the GCAP programme, depicting a future combat aircraft.
During his visit, the Defence Secretary had a trilateral ministerial meeting with Japanese Defence Minister Yasukazu Hamada and Italian Defence Minister Guido Crosetto. The meeting was attended by Sir Mike Wigston, UK Chief of the Air Staff, the two Air Chiefs from Japan and Italy, and industry leadership.
The Defence Secretary also met separately with Japanese Defence Minister Hamada to reaffirm the UK and Japan's shared values and close defence and security partnership.
They reflected on the importance of our landmark defence treaty, the Reciprocal Access Agreement, signed by the UK and Japanese Prime Ministers in January 2023, and discussed the UK's recent defence activity with Japan's Self Defence Forces, including Exercise VIGILANT ISLES and Exercise KEEN SWORD.
The UK Defence Secretary also visited the 1st Airborne Brigade; the unit who hosted British Army personnel for Exercise VIGILANT ISLES in 2022, meeting and observing training by those engaging with our personnel and reiterating the importance the UK places on strengthening the UK and Japan defence relationship.