The Foreign Secretary is in Brussels today for a two-day meeting of NATO Foreign Ministers coinciding with Finland's historic accession to the Alliance.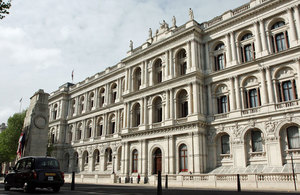 UK welcomes Finland's accession to NATO as the 31st member and calls for Turkey and Hungary to swiftly ratify Sweden's bid.
Foreign Secretary is attending an historic meeting of NATO Foreign Ministers in Brussels on Tuesday, in which Finland will attend as a fully-fledged member – 74 years after the signing of the North Atlantic Treaty.
UK has pledged £10 million to NATO's fund for non-lethal aid, supplying items such as medical equipment, rations and counter-drone equipment to Ukraine, and £2 million for countries affected by malign Russian activity.
The Foreign Secretary is in Brussels today (Tuesday 4 April) to attend a two-day meeting of NATO Foreign Ministers, marking 74 years to the day since the North Atlantic Treaty was signed to promote peace in the aftermath of the Second World War.
Following Finland's formal accession to NATO today, the meeting will see the raising of Finland's flag at NATO Headquarters, and Finnish Foreign Minister, Pekka Haavisto, take his seat at the table between Estonia and France.
13 months ago, Finnish membership was not on the horizon. Russia thought its aggression in Ukraine would divide members of NATO. Instead the Alliance is safer and more secure with another Ally in its ranks, promoting the principles of freedom and the rule of law.
The UK was one of the first NATO Allies to ratify Finland's and Sweden's bids to the Alliance and played a significant role in securing agreement from all NATO allies for Finland's accession. We continue to urge Türkiye and Hungary to provide a clear path for Sweden's accession to the Alliance as swiftly as possible. Alongside the Foreign Ministers' meeting, the Foreign Secretary will meet his Turkish and Hungarian counterparts, Mevlüt Çavuşoğlu and Péter Szijjártó, and impress this urgency.
Prime Minister Rishi Sunak said:  "This is an historic day for Finland and for NATO. Their accession has made our Alliance stronger and every one of us safer. All NATO members now need to take the steps necessary to admit Sweden too, so we can stand together as one Alliance to defend freedom in Europe and across the world."
Foreign Secretary James Cleverly said: "Today will go into the history books for NATO as a defensive Alliance. 31 countries strong, we welcome Finland to the table. Russia thought its aggression would divide us. Instead, we are bound tighter together, resolute in our defence of the principles of freedom and the rule of law. Let us be clear that our door remains open. We will welcome further Allies with open arms and we continue to push for Sweden's swift accession."
Finland and Sweden share the Alliance's unwavering commitment to international security – a commitment the UK also shares, last year signing mutual security declarations with both countries. Finland and Sweden have years of experience in training and operating with Allies and have made significant contributions to NATO-led operations and missions and the UK-led Joint Expeditionary Force. The UK values their role in the region and applauds their support for Ukraine.
Ukraine continues to be at the top of the Allies' agenda, with Ukrainian Foreign Minister Dmytro Kuleba also invited to attend the meeting. A just and lasting peace for Ukraine, on Ukraine's terms, is in the interest of all NATO Allies.
Allies will discuss ongoing efforts to accelerate support to Ukraine to ensure it wins against Russia's illegal and unprovoked invasion.
We will do this in three ways: by being more proactive with our military support; by ensuring Ukraine is never left so vulnerable to attack again; and by helping to build a strong Ukraine to secure a prosperous peace.
The UK is announcing £10 million for NATO's Comprehensive Assistance Package for Ukraine, which provides urgent non-lethal aid such as medical equipment, rations, fuel and counter-drone equipment as it continues to fight against continued Russian aggression. Additionally, £2 million will go to NATO's Tailored Support Packages to help Georgia, Moldova and Bosnia & Herzegovina defend themselves against malign Russian activity.
The UK has committed over £6.5 billion in military, humanitarian and economic support to Ukraine since the start of the invasion. Last week Ukrainian tank crews completed training on Challenger 2 tanks in the UK, following the Prime Minister's announcement in January that the UK would donate 14 of these tanks and accompanying munition to Ukraine.
NATO's four Asia Pacific Partners, Australia, New Zealand, Japan and Republic of Korea, will also attend a session at the meeting to discuss tackling the challenges posed by China.
The Foreign Secretary will hold talks with Pekka Haavisto to personally congratulate Finland on its accession to the Alliance, as well as with Swedish Foreign Minister Tobias Billström, and Ukrainian Foreign Minister Dmytro Kuleba.