11 Aug 21. From fireworks to fuselages, if it's been in a crime to do with explosives, Dstl's Forensic Explosives Laboratory (FEL) has seen it.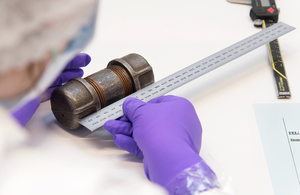 With world-leading facilities, unique in their capability and run by a team of world-leading forensic scientists, the Lab exemplifies what Dstl is here for: applying expert science and technology to keeping the UK safe and secure.
Dstl's FEL facility can trace its origins back to 1871 when the earliest forensic science service was established. Now, 150 years later, supported and funded by the Home Office, the lab continues to support high profile police investigations into the unlawful use of explosives and helps bring those who carry out atrocities such as the Manchester Bombing to justice.
Terrorist attacks make up the more high profile cases dealt with by FEL – Lockerbie, IRA attacks, 7/7 and the failed bombings on 21 July 2005 in London, and the Bali bombings in 2002 to name a few – but the lab's assistance covers much more than people perhaps realise.
About 80% of our cases are related to fireworks and other pyrotechnics. Examples include fireworks being posted through letterboxes and set off in phone booths, and people experimenting in their sheds with instructions they've found on the internet.
FEL has a very successful development programme that typically takes new graduates from good chemistry degrees and moulds them into specialists in forensic explosives with one main aim: to provide expert witness testimony for the British criminal justice system.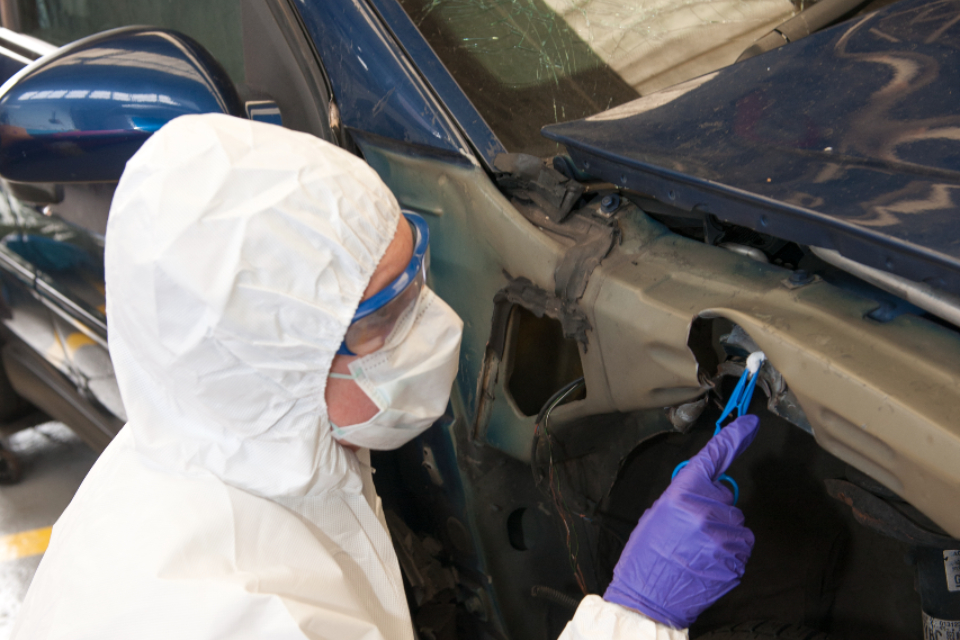 FEL history in detail
Late in the 19th century it was Captain Vivian Majendie who became the world's first bomb disposal specialist. His history is well known among the scientists who proudly work in Dstl's newest forensic lab at its site near Salisbury, recently opened in 2020 by Her Majesty The Queen and His Royal Highness Prince William.
Captain Majendie's tale began when, on 11 August 1871, at least 2 explosions occurred in the Prentice family's 'Patent Safety Gun Cotton Co. Ltd' in Stowmarket, Suffolk. The size of the crater was 10 feet deep and 40 feet across, with the explosions causing almost complete destruction of the factory and extensive damage to properties in the local area.
More than 20 people were killed, including 2 members of the Prentice family, and in excess of 70 people were injured. More than 180 cases of deafness was caused as a result of the loud bang of the explosion, which could be heard as far away as Southwold – 30 miles away.
The government at the time issued a reward of £100 to establish the cause, believed to be the accidental initiation of ton quantities of nitrocellulose (poor standards of health and safety were found to be the cause of many accidental explosions at that time).
A formal enquiry into the incident was carried out by Captain Majendie, the recently appointed Home Office Chief Inspector of Accidents, a role he retained until his death in 1898. He realised quite quickly that he needed the services of a qualified chemist and so sought the advice of Dr August Dupre who was, at that time, consultant for the Medical Department of the Privy Council.
Dr Dupre carried out various chemical investigations into the cause of the explosion and gave expert evidence at the Coroner's Court on 6 September. The association between Majendie and Dupre continued and by 1873 Dr Dupre had become an unofficial chemical adviser to the Home Office, giving his service in the fields of analysis and control of explosives, and the investigation of explosions.
In 1875, Parliament passed the Explosives Act and set up an Explosives Department, with Captain Majendie at its head. Dr Dupre also extended his work into the criminal field and rendered considerable help to the police following terrorist attacks on government, military and police targets.
Following the Fenian outrages and other acts of political terrorism in the 1880's Parliament passed a further Act, the Explosives Substances Act of 1883, which deals with the criminal misuse of explosives and explosive devices – legislation that is still used today to bring terrorists and criminals to justice.
Majendie's expertise in the study of explosives led to him becoming a pioneer in the fields of bomb disposal and the forensic investigation of explosives and their effects, and he is recognised as having saved many lives.
In 1883 Dr Dupre himself assisted in the conversion of several hundred pounds of impure nitro-glycerine (which had been secretly manufactured in the heart of Birmingham) into dynamite, and so averted what might have been a terribly disastrous explosion. He was highly commended in the House of Commons by Sir William Harcourt, then Home Secretary, in connection with this "prompt and courageous action".
Dr Dupre, who was reportedly an excellent expert witness and was more than once complimented in Court on his straightforward evidence, continued his work in support of the Explosives Department until his death in 1907, and was succeeded in his consultancy by his 2 sons who continued to provide this service, as well as military work on explosives during the First World War.
In April 1923 the role of chemical adviser to the Home Office Explosives Department was formalised and moved to the War Office Research Department at Woolwich. A special section was formed and one Frederick Dupre continued to provide his assistance to the police and Home Office until his retirement in 1948.
The precise origins of the title 'Forensic Explosives Laboratory' (used to describe the forensic investigations being carried out on behalf of the police) is not known, but FEL relocated from Woolwich Arsenal to the former Royal Armament Research and Development Establishment (RARDE) Fort Halstead in January 1986 and then again to Dstl Porton Down in March 2020.