The Defence Secretary made a statement to Parliament updating members on the UK's continued programme of military aid to Ukraine, including long-range precision strike capability.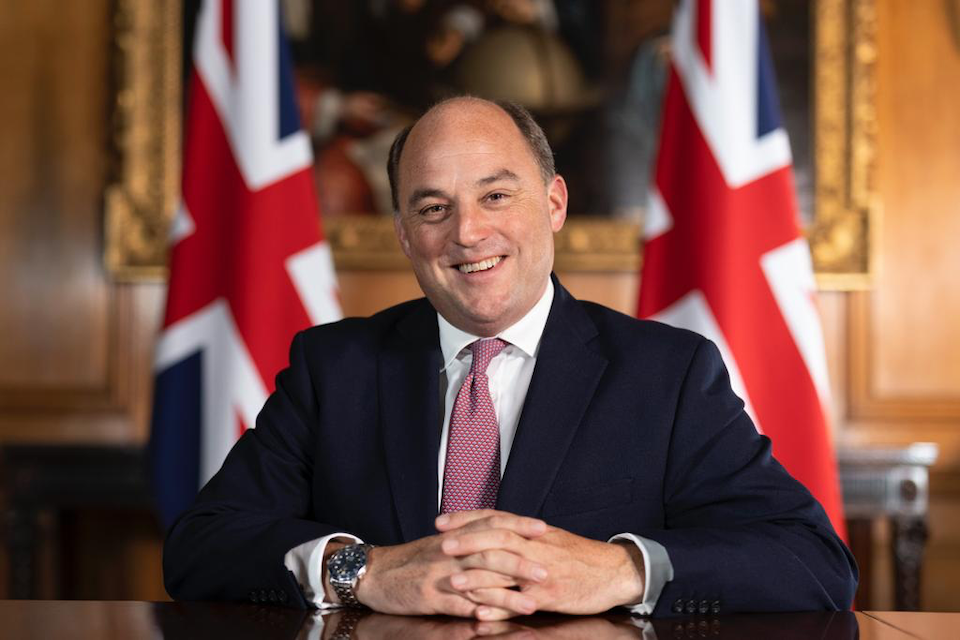 Today, I want to update the House on Russia's attacks on civilians and critical national infrastructure in Ukraine.
We are now on day 442 of the conflict. During this period Moscow has, according to the UN, provoked the largest displacement of people in Europe since World War 2, including almost eight million refugees and almost six million internally forced from their homes. We must not lose sight of these staggering statistics. But, worse still, Russia's battlefield setbacks have led it to cynically targeting energy infrastructure – putting millions of people at risk of sickness and death in cold unsanitary conditions. Take, for example, the besieged city of Bakhmut, where there are now fewer than 7,000 residents, one-tenth of the original population. Who, for the last nine months have been hiding in basements, without clean water, electricity, or gas and minimal connection to the outside world.
From the scale of Russia's attacks, it is clear that they have not limited themselves to military targets – their purpose is simply to terrorise the local population into submission. That conclusion is the only one that can be drawn when you look at Russia's ever-expanding charge sheet of international humanitarian law violations.
As of 2 April, there have been 788 attacks on healthcare facilities – hospitals, clinics, medical centres. There have been instances of damage to educational faculties – schools, day care centres and nurseries.
Meanwhile, Russia has plundered crops and agricultural equipment on an industrial scale, destroying grain storage and handling facilities. According to estimates from the Kyiv School of Economics, Russia stole or destroyed 4.04 million tonnes of grain and oilseeds, valued at $1.9bn, in Ukrainian territories during the 2022 season. And the Kremlin's continued intransigence is contributing to the current backlog of grain exports.
Besides this, Russia has bombed industrial facilities, including the Azot chemical plant (Severodonesk) risking toxic industrial chemical release and environmental impact. It has attacked Ukraine's largest refinery at Kremenchuk on at least three occasions. It has bombed airfields, ports, roads and rail networks – preventing refugees from fleeing the danger. It has taken out communication networks affecting banks, internet and cell phones – with residents in some areas now forced to barter for food. And Kremlin strikes on substations, powerplants and powerlines have impacted water treatment facilities leaving cities like Mariupol without water and reliant on delivery of bottled supplies.
At the same time, Russia has forcibly occupied and undermined the safe operation of the Zaporizhzhia Nuclear Power Plant – the largest in Europe. As International Atomic Energy Agency director general Rafael Grossi has said: "Every single one of the IAEA's crucial seven indispensable pillars for ensuring nuclear safety and security in an armed conflict has been compromised." He recently warned the situation around the plant was "potentially dangerous".
Sadly, so far at least 23,000 Ukrainian civilians have been killed or wounded, although the actual figure is likely to be substantially higher. Thousands of citizens have been sent to sinister "filtration" camps before being forcibly relocated to Russia. Some 6,000 children – ranging in ages from 4 months to 17 years – are now in "re-education camps" across Russia.
The UN as well as US investigators have found that Russia has committed war crimes with reported evidence of executions, torture and sexual violence in civilian areas. In early April, President Zelensky said more than 70,000 Russian war crimes had been recorded since Putin's invasion. The names of Bucha and Izium have become synonymous with mass murder. The world will not forget the bombing of the drama theatre in Mariupol where 1,200 civilians sought shelter under a giant sign reading "children" – no matter how much Russia tries to hide and bulldoze over the scene – we will not forget. Even in the territories Russia has illegally annexed, citizens find themselves subjected to the worst excesses of totalitarianism. A Russian passport is increasingly essential to access vital services – a nightmare for those with newborn babies. Civilian infrastructure – such as healthcare facilities – are being seized and repurposed to treat wounded servicemen. Kill lists of civic leaders have been drawn up, citizens executed in cold blood and concerted attempts made to erase Ukrainian, culture, history and identity.
Mr Deputy Speaker, we should be clear. The targeting of civilians and infrastructure essential to the civilian population of Ukraine has not happened by accident in the fog of war. Much of it was planned Russian policy. Russia has form. We've seen their handiwork in Syria.
In March, President Putin was indicted by the International Criminal Court for war crimes.
But we should also be clear, as numerous credible reports indicate, Russia's morally bankrupt approach might have been made in the Kremlin but it is often carried out willingly – not just by rogue units – but by the ordinary rank and file across the Russian armed forces.
An even clearer picture of Russia's barbaric approach emerges when we look at some of the weapons they are using against innocent civilians. I am not referring here to the extensive strikes against Ukraine's electric power network from cruise and surface-to-surface missiles. Or even the use of short-range ballistic missile like the Iskander which infamously hit a railway station in the city of Kramatorsk, killing 60 and wounding more than 110. Or even the two 500kg bombs dropped by Russian fighter aircraft on the Mariupol theatre.
The fact is Russia has used cluster munitions with wholesale disregard for human life and civilians. They have been dropped near a hospital in Vuhledar. A 9M79-series Tochka ballistic missile delivering a 9N123 cluster munition warhead killed four civilians and injured another 10, including six healthcare workers. It has used 9M55K Smerch cluster munition rockets in three neighbourhoods of Kharkiv – Ukraine's second largest city – resulting in reports of nine civilian deaths and 37 injuries, according to the United Nations.
Russia also relies on massed fires. Indiscriminate artillery bombardments to built-up areas, that account for the vast majority of civilian casualties injured or killed.
And Moscow makes extensive use of conventional anti-personnel mines and improvised booby traps to indiscriminately harm civilians. Dead bodies, the homes and vehicles of Ukrainian civilians and even children's toys have been rigged up as lethal devices. Russia has laid mines remotely and mechanically, covering significant areas of farmland with scant evidence of either marking minefields or warning civilians about their presence. These mines will leave a legacy of danger long after the conflict ends.
Russia has used hundreds of Iranian-made Shahed drones to attack targets in Ukraine. Loitering munitions sent on numerous suicide missions have repeatedly taken their toll on civilians. Last week these weapons struck a university campus in Odesa and, once more, innocents were in the crosshairs in Kyiv.
Mr Deputy Speaker, from the start I have been clear that our support for Ukraine is responsible, calibrated, coordinated and agile. Aligned and united with the international community, we are helping the Ukrainians defend their homeland. Most importantly, it is responsive to Russia's own actions. None of this would have been necessary, had Russia not invaded. But now it is about pushing back their forces and deterring them from committing yet more crimes by holding the Russian military establishment to account for their actions.
In December, Mr Deputy Speaker, I wrote to Russian Defence Minister Shoigu and set out the UK government's objection to the deliberate targeting of civilian infrastructure. And that further attacks – contrary to International Humanitarian Law – for example, the Principle of Distinction, codified in Articles 48, 51, and 52 of the Additional Protocols to the Geneva Convention, would force me to consider donating more capable weapons to Ukraine, so they may better defend themselves within their own territory.
Unfortunately, Russia has continued down this dark path. This year, Russia's leadership has continued to systematically target civilians and civilian infrastructure with bombs, missiles and drones. More medical facilities were targeted in January than in the previous six months combined.
It has bombed power facilities in Kyiv, Kharkiv, Ivano-Frankivsk, Lviv, Zaporizhzhia and Odesa oblasts. Incidents of civilian casualties have increased; especially in areas close to the frontline, such as Kherson and Bakhmut – a city now reduced to a smoking ruin. In January, a block of flats in Dnipro was wiped out by a 5.5 tonne Russian AS-4 KITCHEN missile – probably causing 124 casualties, including 45 fatalities. In March, a five-storey apartment block in Zaporizhzia was attacked with a S-300 missile – almost completely destroying the building. And between April 27 and May 2, Russian forces conducted strikes against Ukraine using Kh-101 and Kh-555 long-range Air Launched Cruise Missiles. Despite Kremlin claims that it is targeting Ukraine's "military-industrial facilities" one of the buildings struck was a nine-storey apartment block. The salvo left 23 dead and dozens more injured. Last week, Russian shelling struck residential buildings, and on Monday they bombed a Red Cross warehouse full of humanitarian aid. And drone footage from Bakhmut appeared to show white phosphorus raining down on a city ablaze. The use of incendiary weapons, which burn at 800 degrees Celsius, within concentrations of civilians is a contravention of Protocol 3 of the Convention on Certain Conventional Weapons.
Mr Deputy Speaker, as I have said many times in the past we simply will not stand by while Russia kills civilians. We have seen what Ukrainians are able to do when they have the right capabilities. In recent days, 30 Shahed drones have been shot down. The Ukrainian Air Force say 23 out of 25 cruise missiles fired from sea and land have been downed. And we have had confirmation from Lieutenant General Oleschuk, the Ukrainian Air Force Commander, that even Russia's much-vaunted AS-24 KILLJOY air launched hypersonic ballistic missile has been brought down.
That is why the Prime Minister and I have now taken the decision to provide longer range capabilities.
In December, I informed the House that I was "developing options to respond to Russia's continued aggression in a calibrated and determined manner".
Today, I can confirm that the UK has donated Storm Shadow missiles to Ukraine. Storm Shadow is a long-range conventional precision strike capability. It compliments the long-range systems already gifted, including HIMARS and Harpoon missiles, as well as Ukraine's own Neptune cruise missiles and longer-range munitions already gifted.
The donation of these weapon systems gives Ukraine the best chance to defend themselves against Russia's continued brutality. Especially, the deliberate targeting of Ukrainian Civilian Infrastructure, which is against International Law. Ukraine has a right to be able to defend itself against this. Their use of Storm Shadow will allow Ukraine to push back Russian forces based within Ukrainian Sovereign Territory.
I'm sure the House will understand that I will not go into further details of the capability. But while these weapons will give Ukraine new capability, members should recognise that these systems are not in the same league as the Russian AS-24 KILLJOY hypersonic missile or Shahed Iranian one-way attack drones, or their Kalibr cruise missile with a range of over 2,000km. Roughly 7 times that of the Storm Shadow missile.
Russia must recognise that their actions alone have led to such systems being provided to Ukraine.
It is my judgement as the Defence Secretary that this is a calibrated proportionate response to Russia's escalations.
Mr Deputy Speaker, travelling through Ukraine – as I have several times since the invasion – you see smashed buildings where once there were businesses, and piles of rubble where once there were homes full of life.
They reveal the truth of Russia's invasion. Their needless destruction and gratuitous violence. Their continuing violations of international law and the deliberate targeting and killing of civilians. They are the visible and tragic symbols of the Kremlin's desperation.
Try as they might, the Kremlin can't hide the fact that their invasion is already failing. They can only occupy the rubble left by their destruction.
And this week's "Victory Day" parade showcased only, really, this historic failure. It demonstrated Putin's efforts to twist the Soviet Union's sacrifices against the Nazis in the Second World War and was an insult to the Immortal Regiment.
It was the façade of power and distraction from a faltering invasion. The appeal to unity while even the Russian leadership loses confidence. The hypocrisy of claiming victimhood while waging a war of their own choosing.
The reality is that this is a war of President Putin's own choosing. At the expense of Ukraine's sovereignty and its civilians' lives.
But Mr Deputy Speaker, as you know, the UK stands for values of freedom, the rule of law, human rights, and the protection of civilians. We will stand side by side with Ukraine, we will continue to support them in defence of their sovereign country.
And that is why I commend this statement to the house.
Published 11 May 2023
(Source: https://www.gov.uk/)