Americas Minister David Rutley travelling to Ottawa, Louisiana and Texas where strengthening security and economic ties will be the focus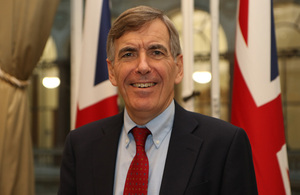 Strengthening security and economic ties with key allies will be focus for Americas Minister on trip to Ottawa, Louisiana and Texas
David Rutley to meet with key federal and provincial leaders to boost UK-Canadian collaboration on global security issues
With more than $1 trillion invested in each other's economies, visit will build on UK-US relationships that create thousands of jobs on both sides of the Atlantic
Deepening security ties with two of the UK's closest allies and strengthening economic links that support jobs on both sides of the Atlantic will be the focus for the Americas Minister as he begins a four-day visit to Canada and the US today (Monday 18 September).
In his second visit in the role to Canada, David Rutley will meet with federal and provincial leaders over two days in the Canadian capital, including Parliamentary Secretary to the Minister of Foreign Affairs Rob Oliphant to discuss UK-Canadian collaboration on global security issues.
The UK and Canada share a unique intelligence and security relationship and Minister Rutley will discuss coordination on sanctions against Russia and encourage international cooperation and support for Ukraine to ensure they win the fight against Putin's illegal invasion.
A two-day trip to Texas and Louisiana will follow when Minister Rutley continues a programme of visits to states across the US. He will champion the UK as a great investment and business partner and highlight the unrivalled security and defence ties between the two countries.
The UK and US already have more than $1 trillion invested in each other's economies and the UK supports more jobs in America than any other country, with more than 110,000 Texans and almost 16,000 Louisianans working for British businesses.
Economic growth and the creation of better paid jobs is among the five priorities set out by Prime Minister Rishi Sunak and Minister Rutley will discuss with political and business leaders how the UK and US can boost cooperation in key sectors to deliver partnerships through the Atlantic Declaration, make their economies more resilient and create jobs.
Minister for the Americas and Caribbean David Rutley said:
There are few relationships that match the closeness of those that the UK shares with the USA and Canada and I am looking forward to boosting our deep and long-standing ties during my latest visit to North America.
During his time in Texas and Louisiana, Minister Rutley will travel to Baton Rouge, New Orleans and Austin where he will hold bilateral meetings with leading state-level political and business figures.
In Ottawa, Minister Rutley will also meet with Canadian students who are joining the Chevening Scholarship programme and will shortly be travelling to continue their studies at UK universities and build lifelong bonds with the UK.
Canada and the UK share a unique partnership as the only countries that are members of the Five Eyes intelligence alliance, the Commonwealth, NATO and the G7.
The Chevening Scholarship scheme is in its 40th year and the 2023 cohort will join a global network of more than 55,000 Chevening alumni when they complete their studies at UK universities.
The UK was the 7th largest export market for Texas in 2019, with $16.4 billion of exports to the UK in 2022. Texas had $5.4 billion of imports from the UK in 2022.
The UK was the 5th largest export market for Louisiana in 2019, with more than $7 billion of goods exported to the UK in 2022. Louisiana had more than $800 million worth of imports from the UK in 2022.
More than 110,000 Texans and almost 16,000 Louisianans go to work each day in jobs supported by UK companies.
The Atlantic Declaration is a first-of-a kind economic partnership which will see the UK and US work together more closely than ever before across the full spectrum of economic, technological, commercial and trade relations.