Commercial satellite communications systems can be used to enhance the capability of armed forces, as MOD DCB features writer Mark Lane discovers talking to Spectra Group's Simon Davies.
Communications have always been vital in warfare, and about 100 years ago they were revolutionised by the introduction of radio.
This gave commanders, at a tactical and strategic level, an unprecedented degree of control over – and ability to respond to – events on the battlefield.
Conventional radio communications are not, however, without their limitations, with a tactical radio only having a range of about 30 miles; and even that can be further limited by certain terrain features or buildings.
In Afghanistan, for example, the British Army using its Bowman radios had to secure hilltop sites for repeaters to extend the signal. These sites had to be protected from enemy attack, which was costly in terms of manpower and equipment; and they had to be resupplied, which created vulnerability.
For communications from theatre to a rear HQ or back to a home country, BLOS (Beyond Line of Sight) communications are needed.
A partial solution was found in UHF TacSat (Ultra High Frequency Tactical Satellite), whereby signals were relayed via military communications satellites. This was developed throughout the 1980s to provide BLOS voice comms but it had to be limited to high-priority users such as special forces. While it was more widely used in Afghanistan there were still only a limited number of tactical satellite channels available.
The challenge was to provide more TacSat channels for voice and low-speed data communications.
This was also an opportunity for a Hereford-based company, Spectra Group, which had been set up by its Chief Executive, Simon Davies, when he left the Royal Signals in 2002.
Spectra teamed up with commercial satellite operator Inmarsat to use its global satellite network to provide tactical satellite channels.
Simon Davies explains: "Working with Inmarsat to provide those channels we developed the equipment to enable in-service tactical radios to be converted to use the Inmarsat satellite network to provide a significant number of channels for BLOS comms.''
Crucially, Spectra's product SlingShot can be bolted onto existing tactical radios without compromising their in-built encryption systems.
SlingShot requires no configuration to the tactical radio; it simply plugs into its antenna socket which converts the VHF or UHF frequencies into the relevant frequencies and power for the Inmarsat network, and the unit has its own antenna.
The required channels are booked with Inmarsat in advance.
"With the flexibility of the Inmarsat commercial satellite network you can book the channel for the period you need and when you've finished, you turn it off and you don't pay any more,'' says Davies.
He adds: "It allows a significant increase in the number of channels and at a much reduced price.''
It also means that an existing VHF radio, such as the British Army's Bowman, can be turned into a TacSat, whereas previously, personnel who needed a TacSat capability would have had to carry two radios, one for conventional LOS comms and another for BLOS.
SlingShot is presently being evaluated by the Ministry of Defence to enhance their existing Bowman system and progress the technology to the level necessitated by Morpheus, an MOD project that will deliver the next generation of Tactical Communication and Information Systems (TacCIS) capability.
The Inmarsat network is global and can be used anywhere, apart from at the Poles; and tests have demonstrated its tactical satellite channels, or L-TAC service, can be used at 82 degrees latitude.
Spectra boasts a further feature for SlingShot.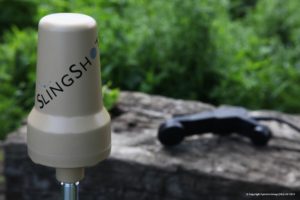 "The beauty of what we have designed, and a differentiator which changes the way people using TacSat do their business, is that the antenna we've got is omni-directional,'' says Davies. "With the tactical communication satellites they had, they had to stop, pause and point it at the satellite. With our antennas you can be going down the road at 80mph and still have communications. That works on a vehicle, on a man or on a boat.''
Spectra has also recently introduced an aviation capability to offer command and control communications to all units on airborne platforms – both fixed-wing aircraft and helicopters – without the necessity for any land or air-based radio re-repeaters.
The system can deliver data as well as voice comms but at low speeds, perhaps taking five minutes to send a 1.5MB file.
"You can send files, still photographs and situation awareness updates. The issue that we have is that we are working off a 25kHz channel so the laws of physics mean you are not going to push a huge amount of data through it and there are other systems for that,'' says Davies.
Given that Inmarsat is a commercial operation, shouldn't the security of communications be a matter of concern to users?
"The channel isn't secure, which is why it's end-to-end encrypted; the radio still provides the encryption, which is why it was key to maintain that level of security. That is no different to what currently happens on conventional radios where the channel is not secure either and the radio provides the end-to-end encryption,'' points out Davies.
About 2000 units have been sold to key users which include special forces and more than 15 armies ranging from North America to Europe and Africa, the Middle East, to the Far East and Australia.
In March last year, Spectra exhibited for the first time at the Fidae International Air and Space Fair where it was announced that Tesacom, a provider of satellite communications (SATCOM) in Latin America, would distribute SlingShot in Chile.This came after Spectra worked closely with Tesacom and the Chilean Navy to successfully test SlingShot in Chile during November 2014.
SlingShot has also been selected for the final phase of the US Army Expeditionary Warrior Experiment (AEWE), an annual event held by Training and Doctrine Command (TRADOC). It is a force-on-force activity at the small unit (squad) level, which places technologies into the hands of soldiers from an early stage of development to allow them to provide credible feedback. It has also been selected for the first phase of the UK's Army Warfighting Experiment.
While winning new markets, Spectra has to keep developing the product, which weighs less than two kilos.
"The challenge with tactical pieces of kit is always size, weight and power,'' says Davies. "Weight is clearly an issue as it has to be carried or fitted on a vehicle so it's a question of making it smaller and it has to be powered.''
Currently there are several different SlingShot systems to work with different radios – using UHF, low VHF and high VHF bands – and Spectra is also working to simplify the product range.