Ian Stubbs (UK delegation to the OSCE) thanks Belgium as OSCE FSC chair for focusing on Russia's unprovoked, barbaric and illegal invasion of Ukraine.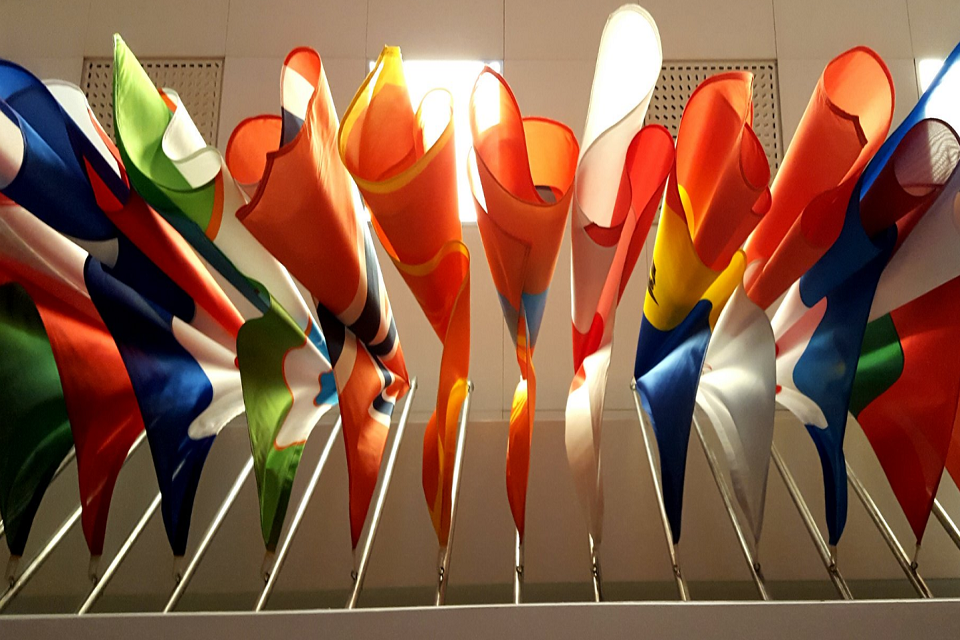 Thank you, Mr Chair. I would like to start by thanking you for your stewardship over the past trimester, and your dedicated team who have worked tirelessly to ensure that the Forum for Security Cooperation (FSC) has remained relevant and able to fulfil its mandate during these extraordinarily challenging times.
It is absolutely right that this Forum has focused on Russia's unprovoked, barbaric and illegal invasion of Ukraine. Russia has attempted to break the foundations of European security, violating the UN Charter and flagrantly disregarding the Helsinki Final Act's core principles of sovereignty, territorial integrity and the non-use of force. Under Belgian leadership this trimester, we have shown that these principles and this Forum matter, and that we will stand up to defend both.
Mr Chair, the Security Dialogues conducted under your chairpersonship focused different thematic lenses on Ukraine. On Children and Armed Conflict, we discussed the harrowing impact that Russia's invasion of Ukraine has had on Ukraine's 7.5 million children – on their health, education, family life and futures. On Women, Peace and Security, we saw how Ukrainian women have constituted a large majority of the victims of the heinous atrocities committed by the Russian Forces. And how they have been instrumental across the breadth of humanitarian, political, and security efforts in the defence of their country – a sad reminder of the need for full, equal and meaningful participation of women during and after conflicts to achieve better outcomes.
Mr Chair, it is nearly 300 days since the world watched in horror as Russia conducted its attack on Ukraine. Since 24 February, we have seen the extraordinary determination of the Ukrainian people as they defend their homeland. With support from their partners, Ukraine has shown that agility, ingenuity, mission command, and effective operational and tactical planning can have a devastating effect against a so-called super power.
In response, we have seen an out-manoeuvred and frustrated Russian military unleash horrendous amounts of violence on civilians and critical national infrastructure. We have watched Russia resort to blunt edged attrition to reduce entire cities, towns and villages they could not take to rubble. We have watched Putin and his military leadership attack Ukraine's energy infrastructure to deprive families of shelter, light, and heat this winter. These actions are a great moral stain upon the Russian military, and one which will never be forgotten.
Here in Vienna, we have watched our Russian colleagues use this Forum as a mouthpiece to try to justify the unjustifiable. Despite their privileged ability to watch uncensored news from around the world, they have perpetuated a campaign of lies, threats and propaganda. They have concocted increasingly ridiculous false claims and made allegations of an epic scale, which do not stand up to the scantest of scrutiny. They have shattered the trust and belief that all of us in this room seek a secure and stable region and work in good faith to achieve it.
In the face of Russia's lies, we have highlighted the truth:
That Putin made a grave miscalculation when he chose to invade a sovereign neighbour.
That Putin and his Generals have sent thousands of Russia's own citizens to their deaths, poorly trained, poorly equipped and poorly led. Mobilising amateurs and convicts to the battlefield to provide numbers and mass in place of fighters and effective leadership.
That the persistent and institutional poor decision making by the Kremlin is having a terrible impact on the Russian people – needless deaths; grieving families; discontent; and isolation. Millions of young Russians will bear the cost for years to come for an invasion they did not choose, nor vote for.
Mr Chair, no one can deny the Belarusian regime is an active supporter of Russia's war of aggression against Ukraine. However, Russia is increasingly attempting to use Belarus to distract from its own failures. We call on the Belarusian regime to recognise this, desist from supporting Russia's attempts to stoke further instability in the region and stop its support of Russia's illegal invasion, which itself constitutes a breach of international law.
Mr Chair, we hope that your focus and approach to the FSC this trimester will be a legacy that continues. The UK looks forward to working with the incoming Bosnia and Herzegovina Chair in what will continue to be a challenging period for the FSC, the OSCE and European Security writ large.
However, none of it measures against the challenges our Ukrainian friends face as they fight for their homeland in a war they did not choose and against an enemy who has demonstrated a disregard for international law, sovereignty, and human rights. This must remain at the forefront of our minds and efforts throughout the winter and into the next trimester. The UK and the international community will stand with Ukraine for as long as it takes. Thank you.